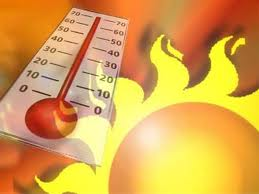 Man Oh Manischewitz, it was a hot one this week. Whew! Have you ever seen a Portuguese man melt right before your eyes? My foursome did. I ditched my hat after the second par 3. It was reduced to nothing more than a dripping wet rag. I also switched out golf gloves right around that same time. One hole later, I had to reach deep into my bag to pull out a dry towel. It looked like it had been there since the late 90's and used to wipe up a toilet. It smelled like it too. But I didn't care. I needed something to dry myself off with. The towel I had been using had become so saturated with sweat that it was doing more harm than good. I had been apologizing to my foursome all night long because I was taking so long in between every stinking shot. The pre-shot ritual included taking a big swig of water, taking a few deep breaths, wiping my head, face and hand, exclaiming, "Oh my God, it's so freaking hot!", checking the GPS for yardage, selecting a club, wiping my head, face and hand again, lining up the shot and finally swinging. It was an ordeal man.
Ollie, the captain of the JETS, was experiencing trader's remorse after trading Nick "Potter" Duer for Mike "Meat" Morrell, 8 pounds of bacon and some wine. First things first, only 6 pounds of bacon were delivered (2 lbs. short) and there was no wine. Syndrome will bring the wine next week and we hope that Roller will bring the other 2 pounds of bacon. By the way, a BIG CUDOS to Snoodles. I must say, he cooked that bacon perfectly. It was so good. Not sure how much bacon the last couple of foursomes got to eat. If you didn't get any bacon, you can blame the fourth group of Squirts, Fusting, Miller and Ollie. They were a good 15 – 20 minutes behind the next group! Yikes! That's a long time to leave 12 guys alone with beer and bacon. Those last few foursomes never had a chance. Finally, another BIG SHOUTOUT to the first foursome of Scratch, Meat, Goldie and Marge. They had SIX pitchers of beer waiting for everyone. NOW THAT'S what I'm talkin' about! Thanks guys!
So how did Potter and Meat do with their new teams? Well, Potter lost his first match of the season and only managed to grab 3 points while Meat also lost but had a respectable round and 4.5 points. After one week, the advantage goes to the JETS. Did Potter crumble under the pressure of being traded for a tray full of quality bacon? Or was it the all-night Harry Potter movie marathon the night before on the Freeform channel? Who knows. Only time will tell how this one will play out. I know one thing, I'm looking forward to the Potter/Meat match in a couple of weeks. Bids are now being accepted to play alongside that twosome. The GCCGL accepts cash, PayPal but would prefer another 8 pounds of bacon. Yes, bacon has become the new Bitcoin for the GCCGL. What's that Cletus? What's a Bitcoin? Seriously Cletus, I don't have time to explain everything to you. All I'll tell you is that the current exchange rate is $2,174 to 1 bitcoin. You have that kind of cash don't you Cletus?
You know how you can tell this league messes with your psyche? Consider this, Lip Gloss had to get home to relieve his baby sitter. Baby sitters are expensive! They can run around $10-$20 an hour. But as he started to leave he realized he could possibly get traded, so he stuck around until everyone else, at least everyone from the Dropping Deuces team, began walking out to the parking lot. Hmm, paranoid much LG? Another funny observation, did anyone notice that Meat stayed the entire time at the post-round gathering? There was NO WAY he was leaving and risking being the first person in GCCGL history to be traded twice in the same season! Too funny!
We had a new sub fill in this week, Tim Tierney who is Cousin' Joe's brother-in-law. We'd love to welcome Tim to the sub list and to this crazy golf league but we can't. We have no EMAIL for the dude! Big Donkey or Cousin' Joe, send us some contact info so that someone can actually get in touch with Tim for subbing duties. He can't be Strait to Church's personal sub. What kind of golf league do you think we're running here?
The big winners this week was the team who played Birdies, Eagles and a Crowe. That happened to be the Dropping Deuces who dropped a world of hurt on BEC (26 – 14). They were led by PW who somehow sneaked in 8 points despite sweating all over the golf course. The Young Guns won their 10th in a row. TEN IN A ROW! You know how hard that is to do in this league? It's probably one of those records that will never be broken. They narrowly defeating a fighting JETS team (22.5 – 17.5) who is now being referred to as team Voldemort. I'm not changing the blog. Sorry, it's too much work. They were led by, who else, Squirts who shot 7 under his handicap and nabbed 7.5 points. By the way, his HC went down two strokes this week. Enjoy it while you can Squirts. Strait to Church barely defeated ROVER (20.5 – 19.5) after their newly acquired teammate disappointed. They were led by Cousin' Joe who took another 7.5 points.
Profile Spotlight
How did we go 13 weeks and not profile our very own co-commissioner Cupcake? Well, it's time. Cupcake joined the league in 1999 and shortly afterwards became a co-commissioner taking over the league finances and statistics. It's been a long time coming, check out Cupcake's profile.
History Lesson
We are going ALL THE WAY back to last year's pot luck event. PW was on the disable list during the 2016 Pot Luck event but did manage to ride along and witness the round. Because it was a slow week, I wound up filling up the blog with some nonsense about dream jobs and speculated about several GCCGL members' shattered dreams. It's pretty funny and some of you Seinfeld fans will appreciate it. Take a look at it HERE if you feel like it.
Notice how I linked several of the GCCGL members names to their player profiles in this week's blog. Our goal this season was to create player profiles for each GCCGL full-time member but we still have a ways to go with 7 weeks left in the season. So I'm calling on our league members to help out and submit suggestions for player profiles and nicknames for those full-time members who don't already have them. This is right up Syndrome's alley. I also expect some big things from Big Donkey. Why? Because he's hilarious! Did you see him pull off that trade last week? So help a brother out and start emailing PW, Cupcake or Lip Gloss some suggestions.
The low net winners were Lip Gloss and Goldie (A/B) with a low net of 32 and Squirts (C/D) with a low net of 29. Congratulations to the winners! We continue match on the Willows front with the popular Pot Luck event this week. We hope to see you on the course and as always, hit 'em straight!
George Almeida – GCCGL – Co-Commissioner